Introduction
You can install Alimentor on an iPhone, iPad and Mac. The iOS and macOS versions of the app (sold separately) use the same private iCloud container for backup and data synchronization, so all changes are seamlessly propagated to all your devices.
Currently Alimentor does not require any kind of subscription, so the download fee is our only source of income. You can download a free trial version of the desktop app here.
Defining Family Members
Before you start creating Alimentor events, you need to define at least one caregiver and one child.
Typically you will want to add you and your ex-spouse as caregivers. You can also add grandparents, babysitters and other persons involved in taking care of your kids.
To add or edit family member profiles:
iOS

Tap the Persons icon located in the upper left corner of the Home view.

Mac

Click the Persons button on the main toolbar or choose Persons... from the menu bar in Alimentor.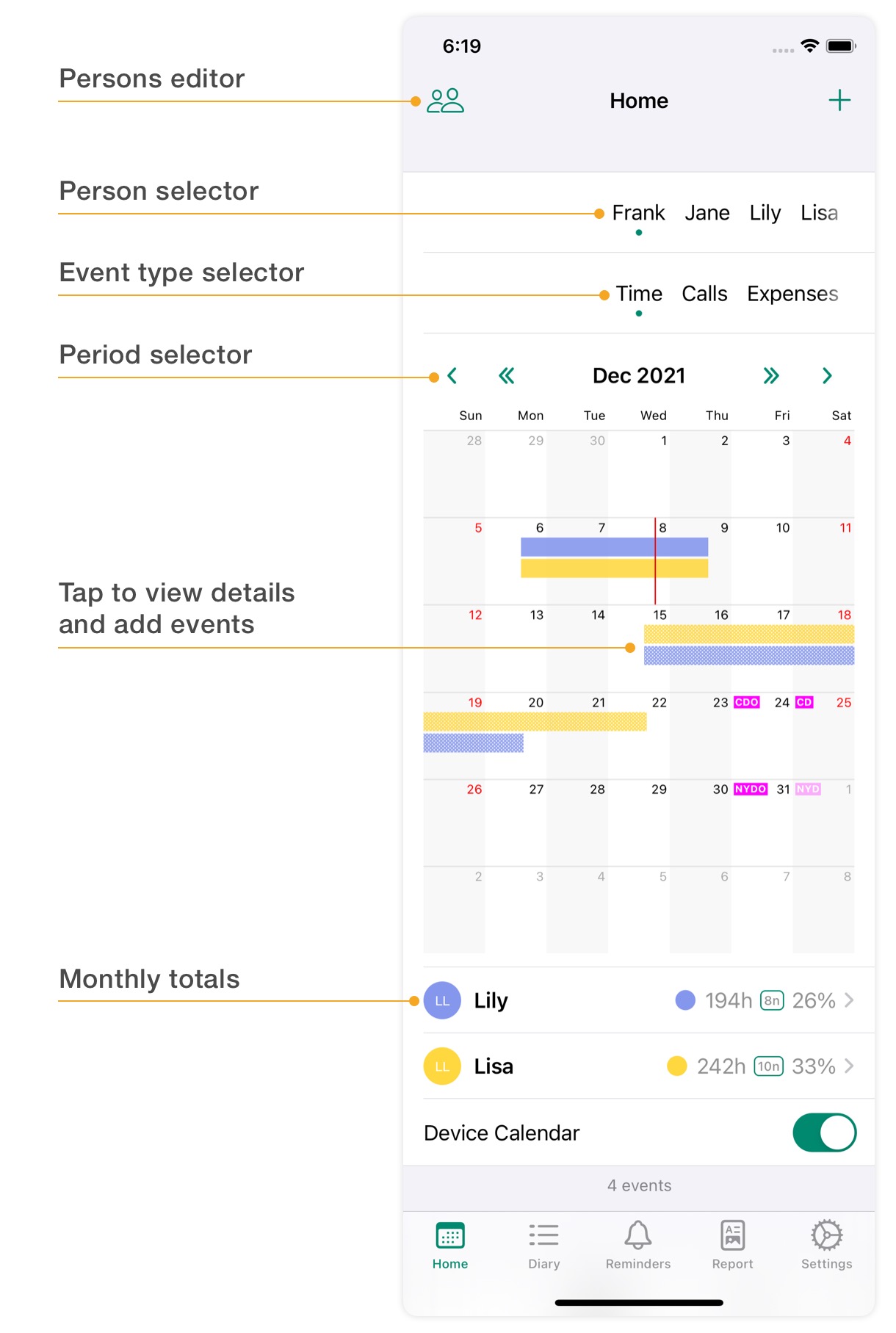 Creating and Editing Events
Alimentor uses dedicated record types to log: parenting time, expenses, and call history. Use memo records to store all additional child custody related content.
Each record has two properties that are particularly important:
Scheduled (switch) - determines if the record is considered part of the custody schedule.
Status (selector) - indicates event status: Planned, Actual or Canceled.
Scheduled or not?
Recording only the history of care is often applicable during the break‑up phase of a relationship when there is no agreed upon custody schedule and spontaneous decisions are made about which parent the children will be with on a given day or week.
If you want to record past events without entering schedule information, set the status to Actual and the Scheduled switch to Off when creating a new record.
Even if you have a regular parenting schedule, there will be times when you care for your children during extra (unscheduled) time. In these cases, when creating a record representing such time, be sure to set the Scheduled switch to Off.
When the Scheduled switch is set to On, you enter both planned and actual dates and times (and amounts in the case of expenses) simultaneously in the same record. Why is it worth doing? Because then Alimentor can generate reports that compare what had been planned, perhaps based on a court-approved parenting plan, with what has actually happened.
Planned, actual or cancelled?
Planned status represents scheduled events that should occur in the future. These events are displayed in the Reminders list.
Actual status is used for past events. These events are shown in the Diary view.
Canceled status represents events that are part of your custody agreement but did not occur for various reasons. Use this status to log: no‑shows, withheld visitations, missed payments. These events are also shown in the Diary view.
Choosing the caregiver for whom you will track parenting time
To minimize data entry effort, it is recommended for a single user to record custody time for only one parent.
Report calendar can be configured to automatically assign unallocated time to the other parent (or another caregiver).
Choose to track your time with the child if:
The other parent wants to use Alimentor and share his/her data with you.
You plan to store notes and photos related directly to the time when your child is with you.
Otherwise you can choose to track parenting time for the parent for whom the schedule is easier to maintain.
Deciding how to assign children to recurring events
If you have more that one child with the same regular custody schedule then you need to decide how to assign children to recurring events. To keep things simple, you can assign more than one child to the same recurring events that represent your custody schedule.
If actual parenting time often differs between children, such as when your older child is more independent and often stays with you longer than scheduled, then it is better to create separate recurring events for each child to easily record individual actual pick‑up/drop‑off dates/times.
Determining record naming scheme
Using short generic titles helps with finding and organizing records. Consider record names that represent the subject, such as: School, Allergies, Diet, Medical Care, Injuries, Social Events, Sports, Winter Break, Entertainment, Books.
Records Content
When entering information, think about what you want to get out of Alimentor in the future. Will the data only be used to generate reports and spreadsheets, or are you sharing or planning to share your records with the other parent?
All record types can store attachments (images, PDFs) and notes. If possible, place evidence and all other relevant documents directly into the parenting time and expense records because it makes reporting easier.
Together with the other parent consider the idea of writing "Day Summary" memos, as these are great for keeping a shared child custody journal of each parent's time with the child.
Historical Data
If you were tracking your parenting time prior to downloading Alimentor, you can enter your historical records into the app for more complete reports.
While Alimentor allows you to store historical data, you should think about how far back you want it to go. Entering a detailed child custody history can be a laborious task.
Importing data from an external calendar
If you've been saving your parenting schedule in an external calendar such as Google Calendar, you can import individual events into Alimentor.
To import a visitation stored in your device calendar to Alimentor, open it using the calendar view in Alimentor and then select Import as Parenting Time.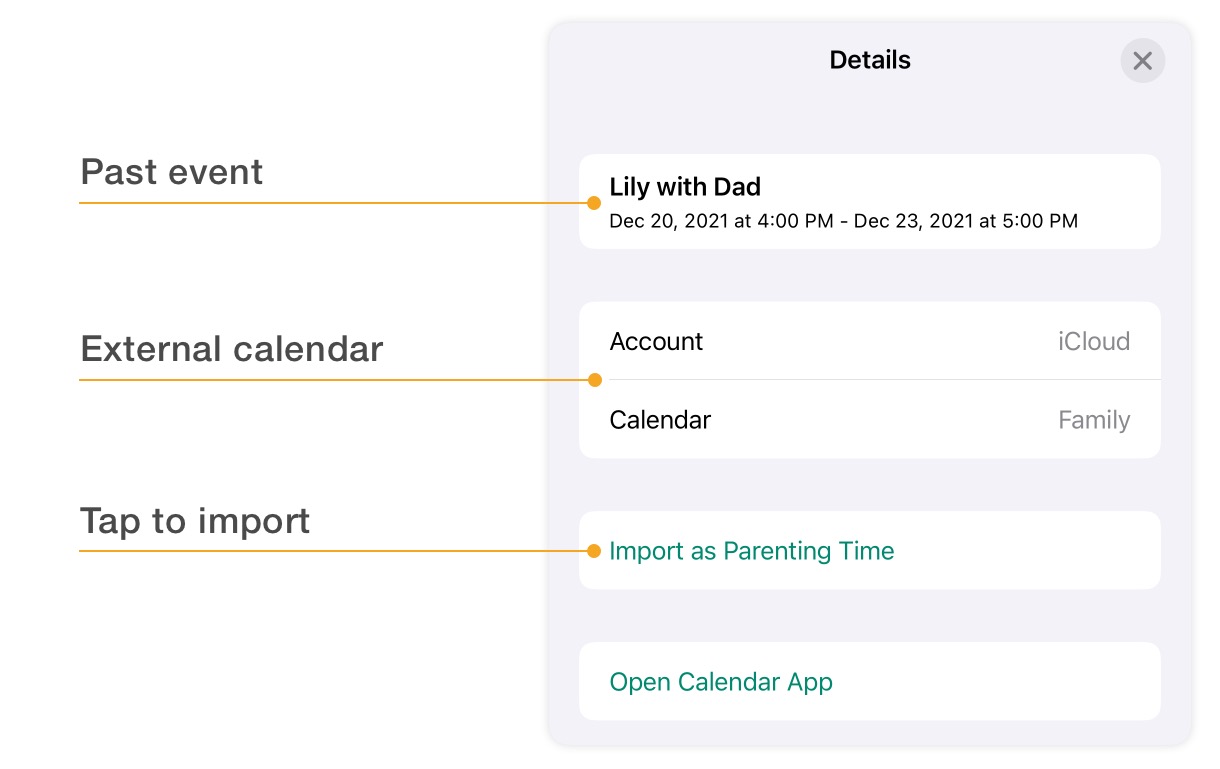 Using recurring events to recreate history
You can consider recreating your historical visitation schedule by defining recurring events that start in the past.
Use the calendar view or the reminders list to switch the status of each historical event from Planned to Actual (or Canceled), at the same time adjusting the dates to reflect any deviations.
Learn More
Here you will find more information helpful for novice users:
If you have any questions about Alimentor, or want to share your feedback, please email us at: feedback@alimentor.org.